SBC – GREAT GAME CHANGER – PHASE 1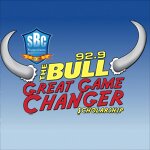 It's BACK!!  92.9 The Bull and Saskatoon Business College want to change your life by giving you a "Game Changing" Scholarship!  It could happen with Saskatoon Business Colleges'  Great Game Changer on 92.9 The Bull!
E-mail us at hebull@929thebullrocks.com and let us know why you deserve to win the Great Game Changer Scholarship and have your tuition to SBC paid!
The Great Game Changer Contest Rules1.    Courses Included for contest:
a.    Administrative Assistant
b.    Medical Administrative Assistant
c.    Legal Administrative Assistant
d.    Executive Assistant
e.    Accounting or Business Administration
2.    Winner must meet prerequisites for acceptance into program of choice.
3.    Non-transferrable to any other party and may not be exchanged for cash value
4.    Must enroll within one year of winning contest
5.    No living allowance, parking or any other costs related to attending college outside of tuition and books will be provided to the winner
6.    Contest winner must adhere to all Saskatoon Business College policies and procedures as outlined in our "Student Day Planner & Procedure Guide"
7.    All textbooks used are the property of Saskatoon Business College and as such shall be returned upon completion of program
8.    Student(s) currently enrolled in SBC programs are ineligible to enter contest