William Hill Sportsbook
Liven the atmosphere is more casual than Stefanelli's other restaurants, the chef felt he had the green light to add New Orleans-style barbecue shrimp, a dish that wouldn't have made sense on the menu at Masseria or Officina. His version, typically full of butter and Worcestershire sauce, integrates a cognac reduction and Parmigiano cheese. A section for sandwiches include a meatball grinder and a D.C. classic: a chili and mustard half-smoke with sausages sourced from Truxton Circle's Meats and Foods.
D.C.'s Historic New In-Stadium Sportsbook Boasts Bar Food From a Michelin Star Chef
If they don't pay close attention to the D.C. food scene, customers at the restaurant that just opened inside D.C.'s historic new William Hill Sportsbook in Chinatown might not realize that the chef behind some of the city's most ambitious Italian restaurants is responsible for the potato skin "nachos," roast pork and rapini sandwiches, and New Orleans-style barbecue shrimp. Nicholas Stefanelli, the owner of Michelin-starred tasting menu destination Masseria and the three-level Officina complex on the Southwest Waterfront, announced his involvement with the city's new nexus of legal sports betting just ahead of its May 26 ribbon-cutting.
The two-story, 18,000-square-foot facility sits inside Capital One Arena, making it the first betting facility in the U.S. to operate as part of a pro sports stadium. Completely renovated from its past life as a location of the Greene Turtle, the space at 601 F Street NW now has 17 betting windows, a dozen self-serve betting kiosks, more than 100 TVs, and even a mini Jumbotron. A 1,500-square-foot LED screen wraps around the whole area. Events at the arena, including concerts and NBA and NHL games, reportedly attract around three million people a year. Needless to say, it's not your average sports bar.
"I've never seen anything like this," Stefanelli says.
LED boards at William Hill Sportsbook display betting lines and scores. William Hill [official]
Self-serve betting kiosks at William Hill Sportsbook William Hill [official]
Stefanelli wanted to write a menu that would satisfy friends meeting for a pregame meal, people stopping in for lunch, or a late-night crowd. The range of snacks, sandwiches, and composed entrees contains a high-low mix that lists the aforementioned potato skins (with cheddar-jack fondue and tomato-tomatillo salsa) alongside a plate of meatballs blended at Officina's commissary or suppli al telefono (breaded rice fritters) stuffed with wagyu beef and mozzarella.
Given the atmosphere is more casual than Stefanelli's other restaurants, the chef felt he had the green light to add New Orleans-style barbecue shrimp, a dish that wouldn't have made sense on the menu at Masseria or Officina. His version, typically full of butter and Worcestershire sauce, integrates a cognac reduction and Parmigiano cheese. A section for sandwiches include a meatball grinder and a D.C. classic: a chili and mustard half-smoke with sausages sourced from Truxton Circle's Meats and Foods.
Stefanelli nods to his childhood in Beltsville, Maryland, with a Sunday special for baked manicotti, an Eastern Shore rockfish imperial, and a plate of kielbasa served with baked beans and grilled bread. "It was one of the go-to dinners in my house growing up as we were running from practice to practice," Stefanelli says of the smoked sausage. The chef's recipe for double-fried chicken wings in an Old Bay hot sauce mimics the one from a Beltsville pizzeria where Stefanelli held down a summer job.
Soft shell crab over roasted cream corn from the William Hill Sportsbook Greg Powers/For William Hill Sportsbook
New Orleans-style barbecue shrimp comes with cognac reduction at William Hill Sportsbook Greg Powers/For William Hill Sportsbook
Potato skins nachos with cheddar-jack fondue and tomato-tomatillo salsa from William Hill Sportsbook Greg Powers/For William Hill Sportsbook
But it's not all sports bar standards. The William Hill Sportsbook has a raw bar promising chilled Maine lobster, Alaskan king crab legs, and seafood towers, too. A prime New York strip with salsa verde and homemade steak sauce costs $48. Kaluga caviar is listed as a market-priced supplement. For dessert, there are hot fudge sundays, spoon biscuits topped with macerated strawberries, or a a bowl of "concession stand crunch."
A list of eight specialty cocktails includes a Zamboni (Evan Williams black, smoked scotch maple syrup, angostura, orange twist). A cardamom egg cream is one of the $5 mocktails. The restaurant at the William Hill Sportsbook opens at 11 a.m. every day, closes at midnight on weekdays, and shuts down at 1 a.m. on Friday and Saturday.
Popcorn-flavored gelato gets mixed with caramel pot de creme, salted pretzel bits, and chocolate pearls to make "concessions stand crunch" at William Hill Sportsbook. Greg Powers/For William Hill Sportsbook
The DC Council voted to legalize sports betting at stadiums, sports bars, liquor stores, and on an app run by the lottery in December 2018, about five months after a Supreme Court decision made that move possible. The Office of Lottery and Gaming (OLG) issues Sports Wagering Operator licenses, and bars that want to add sports wagering have to amend their licenses through the city's alcohol authority.
"I think we still strongly oppose legalized sports gambling," Goodell said at the time. "The integrity of our game is number one. We will not compromise on that."
William Hill Sportsbook debuts, bringing sports betting inside a U.S. stadium
The William Hill Sportsbook opened Wednesday inside the Capital One Arena in Washington, marking the first sportsbook to operate inside of a U.S. arena.
The development shows the "breathtaking" change in the relationship between sports leagues and team ownership and sport betting companies over the past several years, said Tom Reeg, CEO of Caesars Entertainment.
Other sports owners are watching closely to see if a similar model could be applied inside their arenas.
"This feels very natural to be in this building and to be able to walk into the arena and into a venue like this, to place bets, and I think you're going to see this continue throughout the country," Reeg said, in an interview with CNBC.
Smack dab in the middle of the nation's power center, the two-story, 18,000-square-foot venue will serve as a 365-day-a-year destination for bettors. Gamblers will have access to up to 20 betting windows, and over a dozen self-serve kiosks to place wagers.
The Sportsbook also features a state-of-the-art broadcast studio that will host Monumental Sport's "By the Book" sports betting show and the new facility boasts dining from Michelin-rated Chef Nicholas Stefanelli.
In the three years since the U.S. Supreme Court overturned the Professional and Amateur Sports Protection Act, the sports world has been turned on its head. The law, also known as PASPA or the Bradley Act, prohibited most states from offering legal sports wagering,
In 2017, NFL Commissioner Roger Goodell held a news conference after an owners' meeting in Phoenix and doubled down on the league's and owners' opposition to legalization.
"I think we still strongly oppose legalized sports gambling," Goodell said at the time. "The integrity of our game is number one. We will not compromise on that."
Today, many of the same people that opposed sports gambling, see it as a new frontier, especially as pandemic-related financial losses continue to pile up. Sports teams have also found that betting not only brings in more cash, but more engaged fans.
Monumental Sports and Entertainment owns multiple Washington-area sports teams, including the Capitals and the Wizards. Its CEO, billionaire Ted Leonsis has pushed hard for sports leagues and owners to embrace legalized sports betting.
"You look around this Sportsbook," Leonsis said. "It feels like day trading, right, for the millennial and Gen Z, very highly educated, highly compensated person that [can] come and buy season tickets — buy tickets for thousands of dollars — to now have a rooting interest in, to be able to come in and enjoy how all this data is presented. It's very synergistic for the leagues and teams."
The William Hill Sportsbook is the only new business to open in downtown Washington during the pandemic, and the money it has generated has helped boost the district's revenue.
Caesars has a growing number of ventures inside athletic facilities. Its deal with the Arizona Diamondbacks gives it market access to mobile betting and exclusive sponsorship opportunities. Caesars has also finalized a multiyear agreement with Major League Baseball to become an authorized gaming operator of the league, in addition to its recent deal with the National Football League.
The partnership deals are part of a larger industry trend as professional sports leagues embrace sports betting. The National Basketball Association has made various deals with The Score, DraftKings, William Hill and MGM Resorts, among others.
And the NFL — whose commissioner was so staunchly opposed to legalized sports betting — now has three official gaming partners, DraftKings, FanDuel and Caesars.
In February, the NHL added its fourth sports betting partner with PointsBet, taking a equity stake in the company.
"The reality is you've got to adapt to the way your customer wants to consume your product, and sports betting really fits where the world is today. . We want constant activity, constant action, and sports betting feeds right into that," said Reeg.
Regular Race and Sportsbook guests should be sure to inquire about our Infinity Rewards membership club. As a member, you can earn resort comps for dining, retail and theatre purchases, as well as casino free play and complimentary hotel stays.
William Hill Sportsbook Betting
William Hill offers Nevada's most expansive wagering menu throughout the calendar year and anything you can wager on at our full-service sports book inside Grand Sierra Resort and Casino is also available via the William Hill Mobile Sports app. This includes futures, props and much more on the following sports:
Pro and College Football
Pro and College Basketball
Baseball
Hockey
Soccer
Boxing and MMA
Auto Racing
Golf
Tennis
And more!
For every $1 wagered guests will earn $1 in William Hill comp. Below I have listed the points a guest needs to earn in order to receive a dining comp.
165 points = $5 Dining Comp
330 points = $10 Dining Comp
495 points = $15 Dining Comp
660 points = $20 Dining Comp
825 points = $25 Dining Comp
1,650 Points = $50 Dining Comp
Sports & House Race: $1 Wager = 1 point
| Wager Type | $1 Wagers |
| --- | --- |
| Straight Wagers | 1 point |
| Off the board Parlays/Teasers | 2 points |
| Parlay Card | 5 points |
| House Race | 20 points |
Friday & Saturday: 8:00am–10:00pm
Sunday-Thursday: 8:00am–9:00pm
Such brand visibility paired with what is expected to be an aggressive spend plan in terms of advertising, marketing, and new player acquisition should bode well for future growth. In this way, Caesars could successfully gain a meaningful share in already established markets while positioning itself for strong launches as more states enter the legal online sports betting fray.
Out with William Hill, In with Caesars Sports App
Notably, Reeg disclosed that Caesars intends to sell off William Hill's non-U.S. entities and reallocate that cash into its U.S. sports betting efforts.
The concentrated focus from Caesars, one of the United States' most recognizable gaming brands, makes sense. William Hill made a dent in various online sports betting markets, including New Jersey, Illinois, Colorado, and Virginia, among others, but it never managed to emerge beyond the shadows of DraftKings and FanDuel in certain states, and BetMGM in others.
But with the impending Caesars Sports app rebrand, the results may be vastly different. In short, there are three key variables to consider regarding its likely emergence later this year.
Previously and dating back to the 1980s, Bogdanovich ran books at Sands, Golden Nugget, Mandalay Bay, the Stratosphere, and Binion's Horseshoe.
Asher reminisces
Asher, a Wilmington, Del., native who likes to tell colorful stories about his father's interest in gambling, founded Brandywine Bookmaking in 2006 after having had a modest career as a lawyer.
At the time, Cal Neva and Leroy's were the two main companies that small and mid-tier casinos in Nevada contracted to run their bookmaking operations, and Asher said he thought there was room for a third company in that sector.
More than a decade ago, the venerable British bookmaking firm William Hill — whose so-named founder passed away a half-century ago — began seeking ways to expand to the U.S. market.
In 2011, William Hill bought Brandywine, Cal Neva, and Leroy's — a "classic rollup," as Asher has called it — to basically control outsourced sportsbook operations in Nevada.
Meanwhile, Eldorado Resorts, which previously had contracted Cal Neva to run a Reno sportsbook, began expanding rapidly. That boded well for William Hill US and Asher, in that wherever Eldorado went across the U.S., William Hill became the sportsbook provider at the newly acquired casinos.
In mid-2020, Eldorado even acquired Caesars Entertainment, and it immediately adopted the Caesars brand for the entire empire. Early this year, the "new Caesars" swallowed up William Hill — and Asher said he and Caesars mutually agreed that it was time for him to depart and catch his breath after a hectic decade-plus in the gambling industry.
"The stars aligned — I was ready to go, and they were willing to let me go at the closing of the deal," Asher told Sports Handle.
"I'm an unofficial consultant if they ever want my two cents on something. I think everyone is happy with how it worked out, but there is certainly an element that the business was my baby."
The William Hill sportsbooks, including those in Atlantic City casinos and at Monmouth Park in New Jersey, are in the process of being rebranded as Caesars.
Must be 18 or older to gamble. Gambling problem? Call 1-800-522-4700 (call or text), or chat at ncpgambling.org/chat.
William hill sportsbook
WASHINGTON, May 26, 2021 /PRNewswire/ — Marking a major milestone in American sports history, the William Hill Sportsbook at Monumental Sports & Entertainment's Capital One Arena officially opened today, becoming the first ever sports betting venue to open within a U.S. professional sports facility.
William Hill, a part of Caesars Entertainment, and Monumental Sports & Entertainment announced a groundbreaking partnership deal in October 2019 to open the first-of-its-kind, marquee destination for local, regional and global visitors. With the addition of Michelin-starred Chef and Maryland native Nicholas Stefanelli, the talents of three leading purveyors in the hospitality and entertainment industries will offer guests a truly unique and extraordinary experience.
"Monumental Sports & Entertainment is proud to have worked with William Hill and Caesars Entertainment, a proven leader and innovator in sports betting, to provide the preeminent fan experience and serve as exemplars to the industry as first-in-class and best-in-class," said Monumental Sports & Entertainment Founder & CEO Ted Leonsis. "Providing a data-driven, technologically-advanced environment in a beautiful, approachable space with fine dining options provided by Chef Stefanelli will further enhance the indelible memories we create nightly at Capital One Arena, and draw even more visitors to our historic downtown D.C. neighborhood."
To watch a stream from today's event, visit William Hill's YouTube page
The two-story, 18,000 square-foot venue features 17 betting windows and 12 self-service betting kiosks, as well as Verizon 5G Wi-Fi capability so fans can place wagers on mobile devices through the William Hill app from the comfort of their seats as they enjoy a meal or beverage. Visitors will enjoy a premium game-day experience whether they're attending a Capitals or Wizards game or watching out-of-town games in the sportsbook, thanks to an inspired sports-bar menu crafted by Stefanelli.
More than 100 television screens adorn the Sportsbook, including four positioned on all sides of a jumbotron that hangs from the ceiling in the center of the venue that is a replica of the one inside Capital One Arena at center ice/center court. A custom, 1,500 square-foot LED screen wraps the entire facility and offers visitors the best viewing experience for enjoying multiple games across various sports simultaneously.
There is also a broadcast studio that will be used to host live television and radio shows, as well as two VIP areas and a private dining and entertainment space. Design elements pay homage to the history of sports and local professional teams, including baseball stitching incorporated into the staircase railing, vintage lockers featured in the main bar, local sports memorabilia throughout the space and sketches of local arenas printed on the ceiling.
The sportsbook and restaurant will be open daily, year-round, and are accessible to the public from F Street while offering direct access to and from Capital One Arena during select ticketed events, which currently number 230 events a year and welcomes 3 million visitors.
"With more than 100 televisions, nearly 20 betting windows and a dozen kiosks in the space as well as access to the William Hill mobile app, our guests will enjoy a great gameday watching the Capitals or Wizards at home or wagering on their favorite teams during any game," said Tom Reeg, CEO of Caesars Entertainment, parent company of William Hill. "Adding Chef Nicholas to our roster has elevated our partnership with Monumental Sports & Entertainment to an elite level, providing the ultimate sportsbook experience for fans throughout the region."
The premier full-service food and beverage offerings created by Stefanelli complement the premium sports betting facilities that are synonymous with the William Hill experience. With its location within the spirited and energetic atmosphere of Capital One Arena, the William Hill Sportsbook and Restaurant Concept offers a revolutionary and fundamental fan experience for sports fans in Washington, D.C.
Stefanelli is known for his traditionally inspired Italian dishes mixed with equal parts finesse, flavor and whimsy style at his flagship Michelin-starred restaurant Masseria, as well as Officina at the Wharf and Georgetown.
"Having the opportunity to partner with industry leaders William Hill and Monumental Sports & Entertainment to present this Sportsbook and Restaurant Concept in D.C. is very exciting," said Stefanelli. "Bringing my brand of hospitality to sports and gaming is a winning combination for me."
Paying homage to cuisine influenced by both his Maryland roots and traditional sports-bar fare, the menu features appetizers, soups, salads, a raw bar, sandwiches, entrees, side dishes and desserts available daily. A few featured items for sports and food fans alike include Double Dipped Chicken Wings, Potato Skin 'Nachos,' Classic Meatballs, Roast Pork Sandwich, DC Half Smoke, Eastern Shore Rockfish Imperial and Chicken Parmesan.
The William Hill Sportsbook at Monumental Sports & Entertainment's Capital One Arena is the first-of-its-kind and is operated by Caesars Entertainment. Caesars Entertainment recently completed its acquisition of William Hill, PLC and currently offers sports betting options in 18 U.S. states and territories, including over 170 retail sportsbooks.
Must be 18 or older to gamble. Gambling problem? Call 1-800-522-4700 (call or text), or chat at ncpgambling.org/chat.
About Caesars Entertainment, Inc.
Caesars Entertainment, Inc. (NASDAQ: CZR) is the largest casino-entertainment company in the US and one of the world's most diversified casino-entertainment providers. Since its beginning in Reno, NV, in 1937, Caesars Entertainment, Inc. has grown through development of new resorts, expansions and acquisitions. Caesars Entertainment, Inc.'s resorts operate primarily under the Caesars®, Harrah's®, Horseshoe®, and Eldorado® brand names. Caesars Entertainment, Inc. offers diversified gaming, entertainment and hospitality amenities, one-of-a-kind destinations, and a full suite of mobile and online gaming and sports betting experiences. All tied to its industry-leading Caesars Rewards loyalty program, the company focuses on building value with its guests through a unique combination of impeccable service, operational excellence and technology leadership. Caesars is committed to its employees, suppliers, communities and the environment through its PEOPLE PLANET PLAY framework. For more information, please visit. www.caesars.com/corporate .
About Monumental Sports & Entertainment
Monumental Sports & Entertainment is America's leading sports and entertainment family. Our people, players, teams, and events bring excitement and joy to millions. We invest and innovate to consistently raise the game so we can deliver extraordinary experiences that will inspire and unite our community, our fans, and our people. To learn more, please visit www.monumentalsports.com .
About Chef Nicholas Stefanelli
Nicholas Stefanelli is the award-winning chef and owner of Masseria and Officina in Washington, DC. Stefanelli grew up in suburban Maryland with a strong influence coming from his close relationship to his Greek and Italian grandparents whose culinary heritage was a fact of life. Visiting Puglia, the source of his Italian roots, Stefanelli became enchanted by the masseria, centuries-old agricultural estates whose residents worked the land, created their own food, and hosted visitors, neighbors, and friends with great warmth. Striking out on his own and building his culinary career in the Nation's Capital, Stefanelli was determined to recreate that sensibility in his first establishment, Masseria, which in 2016 earned a star in Washington, DC's, first-ever Michelin Guide, an honor it has received every year since. Stefanelli opened Officina at The Wharf as a culinary playground bringing together the best of Italian gastronomy, shopping, dining, and home cooking together under one roof at the flagship Wharf location and neighborhood Georgetown address and soon-to-open downtown DC together with his modern Greek concept, Philotimo.
How To Collect Your Winnings From The William Hill Online Sportsbook
William Hill Online Sportsbook Review
If you were looking to find an in-depth William Hill Online Sportsbook review then you've come to the right place. We've carefully studied the online William Hill Sportsbook platform in each state that it operates in. With a name like William Hill, you expect to find a reliable, straightforward, and user-friendly online sportsbook when using their site and that is exactly what they deliver. As soon as you log on you are taken straight to the odds for the biggest matchups of that day. No gimmicks and nothing flashy to distract you from betting on sports. This is both a positive and a negative depending on who you ask. But, throughout our time exploring and experimenting with the sports wagering platform we've come away feeling good about our experience each time.
Throughout our review of the online William Hill Sportsbook, we will cover every noteworthy aspect of the online sports betting platform. This means talking about the odds they offer, the wagering types that you can bet on, and most importantly the ways in which you deposit and withdraw from your account. We'll also cover a couple of the most frequently asked questions we get about the William Hill Online Sportsbook. By the end of our review, you should have all the knowledge need to decide whether or not this online sports betting site is the one for you.
Phone: 800 3551 3551
Banned States: All but NV, NJ & Iowa
Bonus: 100% To $50
Payout Times: 1 Week
Mobile Platforms: Iphone, Android, Apple
Deposit Methods: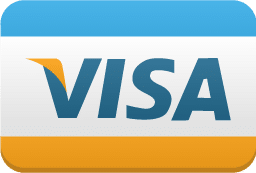 Payout Methods:
Accepts USA Players?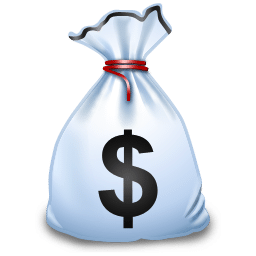 Deposit Bonuses:
Best Deposit Method:
Online Sports Wagering With William Hill Sportsbook
Betting online with William Hill Sportsbook was something that residents of Nevada got to enjoy all for themselves for a good while. However, now that every state is able to create it's own sports betting laws, William Hill has been able to expand. The two other states that the company has established itself in is New Jersey and Iowa. In both states you have the ability to bet on every professional sport. This means that you can put money down on matches happening in the NFL, MLB, NBA, NHL, and the MLS. You can also bet on individual sports like golf, tennis, and boxing.
As far as the bet types go, the online William Hill Sportsbook has them all. This means your traditional moneyline, point spread, and totals bet will be front and center. However, if you are a more serious sports bettor and you want to put action on futures bets, prop bets, parlays, and more, then you can. William Hill also has live betting as a feature online and through their app making it ideal for someone who wants to cash in on a betting opportunity while the game is being played out. One thing to keep in mind is that in-game wagering isn't available for every game that William Hill has odds for. Instead, it is reserved for some of the more popular or primetime events.
*One thing to keep in mind is that in New Jersey, the Online William Hill Sportsbook won't offer odds for teams that are based in the state. In Iowa, William Hill won't offer prop bets for collegiate athletes based in the Hawkeye State.
William Hill Sportsbook App
Whether you are an iPhone user or an Android user, you will have the ability to download the app from your respected app store. Signing up is very easy as you will be asked basic personal questions in order to prove you are of age and can prove that you are the one using it. The William Hill Sportsbook app is restricted to the state in which you are using it. For example, if you are using the app in New Jersey you can only put money on a game while you are in state lines. As soon as you leave the state you may be able to view odds but you can not actually place a bet. You will have to download geo-location software on your device so that the app knows that you are following the rules.​
William Hill Online Sportsbook Promotions
The type of William Hill Sportsbook promotions you can take advantage of also depends on which state you are using the platform. In Iowa, you can become a William Hill Rewards Club member. This allows you to earn points on every dollar you spend betting on sports. Those points can then be transferred into sports bets themselves later on. Becoming a member also allows you to receive special offers all year long. In New Jersey, new members are eligible to receive $50 in cash after they place $50 in bets. While this may sound like a good deal on the surface, there are many more online sportsbooks in New Jersey that are offering much more lucrative Welcome Bonuses to new members.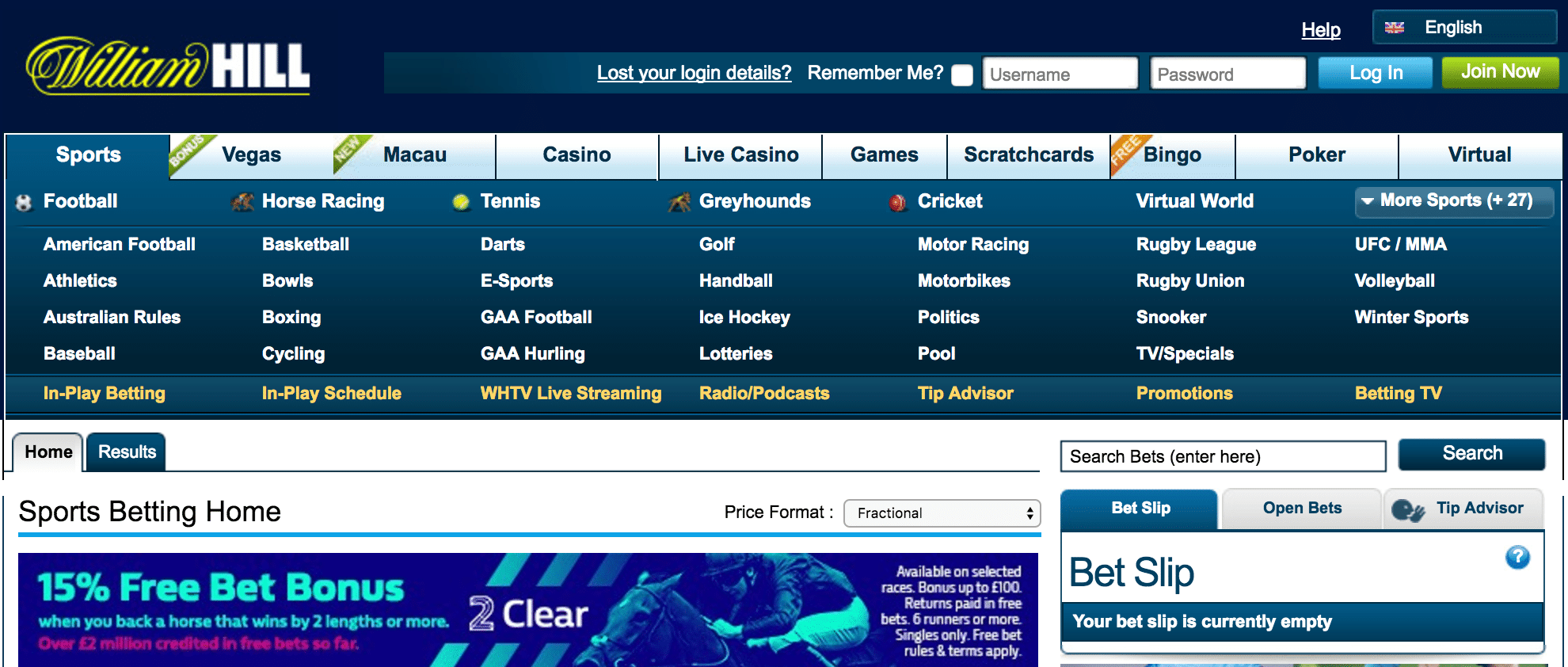 William Hill Online Sportsbook Deposit Options
There are a few different ways you can deposit into your William Hill Sportsbook betting account. William Hill may be a bit more limited in terms of deposit options as other legal sports betting sites, but there are a few options to note. For starters, New Jersey William Hill sports bettors can deposit using eCheck/AHC, debit, and credit cards, using a William Hill prepaid card, or deposit using cash at the physical casino. There are also options to deposit with cash through retailers like 7-Eleven thanks to the PayNearMe functionality. These are the main deposit methods for William Hill Sportsbook players.
How To Collect Your Winnings From The William Hill Online Sportsbook
Unfortunately, there are not many options available for collecting your winnings from the William Hill online sportsbook. You have to either go to a land-based operator that hosts the William Hills sportsbook or cash out from there, or you will have to call them for the bookmaker to send a check to your address.
Unfortunately, William Hill does not offer any direct deposit options or cryptocurrency options for patrons. This may seem more inconvenient to some players as the process either involves you traveling or waiting for a check to arrive. Options are limited as these are the only methods to get your money from your online betting account.
William Hill Online Sportsbook FAQs
In Which States Can I Bet With William Hill Sportsbook Online?
William Hill Sportsbook online is available in a handful of states. The list will continue to grow as legal sports betting in the U.S. becomes more prevalent and states adopt both mobile and retail sportsbooks as well as horse racing betting. States with William Hill betting shops can be found in Colorado, Florida, DC, Illinois, Indiana, Iowa, Michigan, Mississippi, Nevada, New Jersey, New Mexico, Pennsylvania, Rhode Island, The Bahamas, and West Virginia.
How Old Do I Need To Be To Bet At The Online William Hill Sportsbook?
How Does The Online William Hill Sportsbook Compare To Offshore Sportsbooks?
Both options are great for sports bettors who want to cash-in on their favorite sports and/or favorite athletes. The biggest limiting factor of William Hill Sportsbook is the fact that it only operates in three states. If you travel outside these states and you are unable to use William Hill, whereas offshore sportsbooks are available nationwide. Offshore sports betting sites are also free from weighted lines caused by home-team bias which is not something that can be guaranteed by William Hill.
Are The Odds Different Between The Online William Hill Sportsbook and Land-based One?
If you live in Nevada, New Jersey, or Iowa, then the odds offered on the William Hill Sportsbook app are going to be the same as the ones you'll find in a land-based casino sportsbook. This makes it easy to get odds from William Hill without having to take a trip anywhere. You can simply bet with William Hill wherever you are.
Can I Use William Hill Online Sportsbook If I'm Located Outside of Iowa, New Jersey, or Nevada?
To put is simply, no. If you try to use the online William Hill sportsbook and you're not located in those three states then you are directly violating the Wire Act. If you happen to live outside those states and want a safe route to place bets online then you can just turn to sites like Bovada, MyBookie, or BetOnline.
Does William Hill Have Live In-Game Betting?
William Hill does feature live in-game betting as a feature on both its mobile and standard platform. Live in-game betting allows you to bet on sports as they happen, with odds that change and fluctuate according to the developments of the game. With William Hill, you can enjoy the entertainment and benefits of in-game betting. Just head over to the in-game betting section on the home page and you will see all of the current games that feature live odds.
Can I Bet With William Hill From My Mobile Device?
Yes, William Hill features one of the more advanced mobile betting apps available on the market today. As long as you live in one of the legal states that William Hill operates in, you will be able to download the app and place bets anywhere you have an internet connection. Instead of using your device's internet browser to place bets, William Hill's dedicated app will provide you with one of the most streamlined mobile betting experiences available.